By JASON COMERFORD

Georges Franju's 1960 film Eyes Without a Face is a classic horror tale raised to the level of poetic tragedy. Adapted from a novel by French writer Jean Redon, the story concerns Dr. Génessier (Pierre Brasseur), a surgeon whose obsession with restoring the beauty of his daughter Christiane (Edith Scob) leads to horrific results. Far from being a typical mad scientist, Dr. Génessier's unblinking devotion to his sole remaining family member proves both tragic and monstrous -- and results in one of cinema's most indelible images: the ghostly Christiane, dressed in high-collared white coats and gowns and wearing a blank white mask, hovering about the staircases of Génessier's isolated, palatial estate, waiting apprehensively as her father's experiments repeatedly prove fatal.
A dark fairy tale like none other, Eyes Without a Face was initially greeted with controversy and hostility upon its initial release in France, mostly over a key scene where the monstrous Dr. Génessier performs one of his face-grafting procedures. Eyes Without a Face was edited down and retitled The Horror Chamber of Dr. Faustus for its initial American release, and spent the next few decades gathering a devoted cult following before being restored to its original length in 2003, and has remained a key hallmark in the cinema of its decade; Hong Kong director John Woo would later help himself to much of the film's key imagery for his action opus Face/Off in 1997.
Composer Maurice Jarre had already collaborated with Franju on his previous film La Tête contre les murs (Head Against the Wall), and for Eyes Without a Face he contributed one of his characteristically unique scores, centered around an eerily jolly waltz for harpsichord. The carnivalesque theme is often heard underscoring scenes where Génessier's assistant Louise (Alida Valli) stalks Génessier's next victims, the circular melody providing a stark contrast to the onscreen action and suggesting an endless cycle of madness. Eyes Without a Face is actually scored very minimally, with perhaps 15-20 minutes of music throughout the entire film, but Jarre's score, alternately melancholy and chilling, would end up becoming one of its most effective elements.
Jarre's career was on the verge of breaking wide open; within the next five years, he would go on to score cinematic classics including Lawrence of Arabia, The Longest Day, The Train and Doctor Zhivago (among many others). 13 minutes of the original film recordings for Eyes Without a Face were included on a 2005 compilation from the French label Play Time entitled Maurice Jarre: Ma Période Française; the album is long out of print and difficult to find, but it's worth the time and effort to locate.
AUTHOR NOTE: Special thanks to Ed Dennis and Craig Spaulding of Screen Archives Entertainment for their help in acquiring this title.


What do you think?
Click here to submit a comment
for this installment.


The Moment in Question:
Click [here] to listen to a sample of
"Générique" from Eyes Without a Face,
composed by Maurice Jarre.

... ..Maurice Jarre

Installment Prize:
A prize will be awarded at the
end of each week through
random drawing from all
participants contributing
comments.
Week 1 Prize Information
Week 2 Prize Information
Week 3 Prize Information


What do you think?
Click here to submit a comment
for this installment.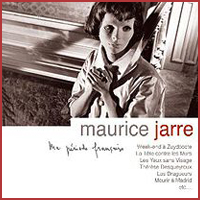 .
Awesome Websites!
Download Soundtrack - Amazon mp3


Next Installment:
Roque Baños has an ill-fated encounter
with a nail gun. Evil Dead