By JASON COMERFORD

Horror cognoscenti turned up their noses at Fede Alvarez's 2013 reboot/remake of Sam Raimi's grindhouse classic The Evil Dead; that is, until they actually saw it. Raimi's original has its indelible charms but Alvarez's Evil Dead is an improvement on nearly every level -- script, performances, and production technique included. Alvarez, who collaborated on the story with Rodo Sayagues, nods to the original perhaps a few times too many, but on the whole, the film is surprisingly, delightfully effective for fans and newbies alike.
For the score, Alvarez and producers Raimi, Bob Tapert and Bruce Campbell tapped Spanish composer Roque Baños, who'd previously composed impressive scores for stylish thrillers like Brad Anderson's The Machinist and Jonathan Glazer's Sexy Beast. For his first American production, Baños responded in grand fashion, creating a rich score for orchestra and chorus that hits the ground running, reaching a ferocious fever pitch in a brutal sequence where the possessed Natalie (Elizabeth Blackmore) relentlessly attacks Eric (Lou Taylor Pucci) with a nail gun. In the liner notes for La-La Land's CD release of the score, Baños noted:
Fede and I spent a lot of time searching for the most "evil" sound we could get out of the orchestra and the choir. First we found a theme, a very spooky one that we loved, but that still was not the sound we were looking for. We used all kinds of rips, ramps, scratches, whispering, shouting - but nothing convinced us it was the sound of true "evil." I then remembered during my first week of composition on "Evil Dead," I couldn't sleep so well. I had nightmares and I was hearing sirens outside my house all night, which I hated. Suddenly, "Bloody Hell" tumbled out of my mouth without thinking and... EUREKA! That was it! The "evil" sound was just a siren! I tried it the next day in some scenes and it worked greatly. Fede loved it, and everyone else seemed to love it too. Thanks, police!!
Baños' "Natalie Hunting" cue is a highlight of the score, a powerful, charging piece that incorporates the siren effect to smashing effect. Baños demonstrates impressive mastery over the orchestral and vocal resources at his disposal throughout (the score was recorded in London with the Pro Arte Orchestra and the BTG Chapel Choir), and with "Natalie Hunting", he gives one of the film's most effectively nerve-rattling sequences a perfectly thrilling accompaniement. La-La Land's comprehensive CD release of the score came out earlier this year, and is highly recommended to all fans of the genre.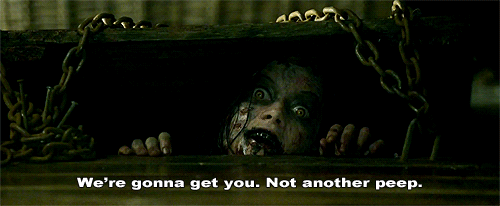 What do you think?
Click here to submit a comment
for this installment.


The Moment in Question:
Click [here] to listen to a sample
of "Natalie Hunting" from Evil Dead,
composed by Roque Baños.

... .. Rogue Baños

Installment Prize:
A prize will be awarded at the
end of each week through
random drawing from all
participants contributing
comments.
Week 1 Prize Information
Week 2 Prize Information
Week 3 Prize Information
Week 4 Prize Information
Grand Prize Winner


What do you think?
Click here to submit a comment
for this installment.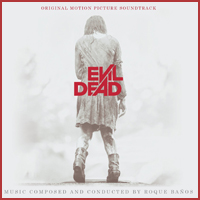 .
Awesome Websites!
Soundtrack on La-La Land Records


Next Installment:
Look for a new season of 13 Chills
premiering October 2014.