By JASON COMERFORD

The media hysteria over the so-called "torture porn" genre has, thankfully, come and gone, leaving in its wake a lot of bad movies that exist only to carve up good-looking young actors. Ironically, Eli Roth's Hostel Part II is one of the better examples of this short-lived subgenre, despite sinking like a stone upon its release in 2007. Much less explicitly violent than its reputation might suggest, Hostel Part II is a surprisingly intelligent extension of the first film's fictional world, with a number of genuinely chilling setpieces (one eerie sequence in an outdoor sauna is among Roth's finest achievements as a filmmaker) and some surprising plot twists.
Roth's usual musical collaborator, Nathan Barr, returned to the franchise for the sequel, and delivered one of his finest efforts. Barr is the multitalented musical artist best known for his scores for HBO's True Blood, as well as his collaborations with the comedy troupe Broken Lizard (among them Club Dread and The Dukes of Hazzard). Barr, who performs many of the instrument parts heard in his scores, began his career with an eight-month stint as an assistant to Hans Zimmer, and he's been going strong ever since, with recent Emmy nominations for his work on Netflix's Hemlock Grove and FX's The Americans.
Barr's score for the first Hostel cleverly injected a sense of fairy-tale fancifulness into the proceedings, and his score for the sequel continues in the same vein throughout, with a number of bristling attack cues and quieter, more ominous tones. But the most interesting cue of the whole score is Barr's mournfully beautiful overture, "Suite ('Amid a Crowd of Stars')." Solos for harp, violin and oboe lead into a swelling theme for string choir and orchestra, a stirring and darkly pastoral lament for the film's ill-fated characters.
Varese Sarabande released the soundtrack to Hostel Part II upon the film's release in 2007; the CD release is now out of print but easily found on the secondary market and from digital retailers such as iTunes.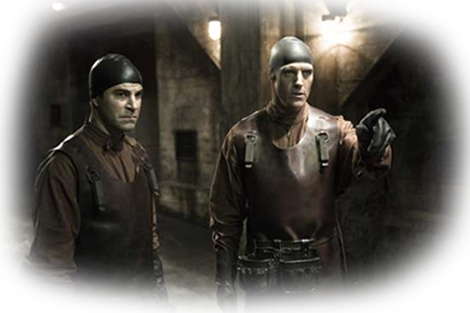 What do you think?
Click here to submit a comment
for this installment.


The Moment in Question:
Click [here] to listen to a sample
of "Suite ('Amid a Crowd of Stars')"
from Hostel Part II, composed by
Nathan Barr.

... .. Nathan Barr

Installment Prize:
A prize will be awarded at the
end of each week through
random drawing from all
participants contributing
comments.
Week 1 Prize Information
Week 2 Prize Information


What do you think?
Click here to submit a comment
for this installment.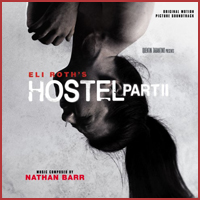 .
Awesome Websites!
Soundtrack available at SAE


Next Installment:
Maurice Jarre goes under the knife.
Eyes Without a Face