By JASON COMERFORD

Polish composer Wojciech Kilar is one of his home country's most celebrated talents, having written hundreds of pieces for orchestra, chamber, chorus and piano over the course of a career spanning nearly six decades. Kilar's oeuvre also includes over a hundred film scores for various European filmmakers, but ironically enough, he has his fellow countryman Witold Lutoslawski to thank for his big Hollywood break.
Director Francis Ford Coppola initially approached Lutoslawski to score his 1992 film Bram Stoker's Dracula, but the celebrated composer declined because of the time commitment and his own ailing health. Coppola then hired Kilar, for what would become his very first score for an English-language production. In his commentary track for the film's DVD and Blu-Ray release, Coppola related his working process with "a really classical musician-composer:"
...What I noticed was he wrote about three or at the most four cues. I think it was three; a love theme, a kind of initial very dramatic theme, and then a third theme. And he gave me these three themes, and we recorded them, and that was all he gave me.
...And I said, "Well, can you give me some variations? For example, could we play the love theme this way and that way, this orchestration, that orchestration?" And he tried and tried and tried, but ultimately, when it was all said and done, he wrote those three cues.They sounded great, and he was giving it to me, and that was it.
So when we actually finished the complete movie, we found that we had to take these three cues, and fortunately, we had the original recordings which were recorded with a number of microphones, so we could play the cue and, you know, not play the string section or not play the brass section, or the music editor had to find ways that we could, like, make these three very, very impressive cues work for the whole movie without just repeating them over and over again.
And that was an interesting experience; very, very positive, and yet somewhat troublesome...
Kilar's powerful, stirring score has many and various highlights but it's the first cue, the roaring and operatic "Dracula - The Beginning," that proves most memorable. Kilar's horrific overture accompanies the bloodsoaked introduction to Count Dracula (Gary Oldman), and the tortured, decades-spanning love affair that powers the story, establishing his key thematic elements with classical élan and seamlessly supporting a sequence of violence, terror and heartbreak.
"Troublesome" process aside, the mixture worked: Bram Stoker's Dracula proved to be one of the biggest hits of the year (and Coppola's career), going on to gross over $200 million worldwide and win three Oscars. Kilar's score for the film is arguably one of his most popular (and accessible) works, and has remained in print since 1992.


What do you think?
Click here to submit a comment
for this installment.


The Moment in Question:
Click [here] to listen to a sample of
"Dracula - The Beginning," composed by
Wojciech Kilar.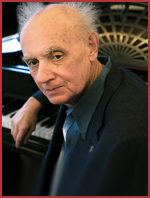 ... .Wojciech Kilar
... ...
Installment Prize:
A prize will be awarded at the
end of each week through
random drawing from all
participants contributing
comments.
Week 1 Prize Information


What do you think?
Click here to submit a comment
for this installment.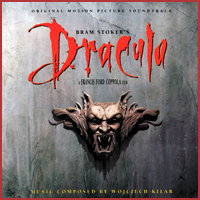 .

Awesome Websites!
Soundtrack available at SAE


Next Installment:
Alejandro Amenábar reaches for
a shape under the sheets.
The Others