By JASON COMERFORD

The multitalented Spanish/Chilean filmmaker Alejandro Amenábar is the very definition of a triple threat: in addition to writing and directing films including 1997's Abre los ojos (Open Your Eyes), the 2001 horror film The Others, and the 2004 drama The Sea Inside, Amenábar is also a self-taught orchestral composer who scores his own films. Indeed, Amenabar has more credits as a composer than he does as as writer or director, having scored films for other European filmmakers including Mateo Gil and José Luis Cuerda, despite having no formal musical training.
The Others was Amenábar's first major success, and while the provenance of the story is familiar to anyone who's read The Turn of the Screw, it's still a remarkably assured film, the type of high-toned supernatural thriller that serves as a perfect counterbalance to the paint-by-numbers slaughterfests that commonly glut the screen. And Amenábar's score gives the production the final classy sheen it requires, expertly weaving a melancholy tapestry of moody, uneasy music around the increasingly intense proceedings. In an interview with Jeff Bond for Film Score Monthly, Amenábar explained his working methods:
FSM: How did you orchestrate for the latter films?
AA: Well, what I do takes a lot of time and work, but I work with a computer program called Notator Logic, samplers, [other] music devices and a keyboard, and the computer is connected with a video player and synchronized, and I just try with different tracks all the instruments I need. Then my demos and my files are transferred to a score. The computer writes a kind of primary score where you can see the notes and move the notes and change them, which is very useful to me. Sometimes you spend more time playing with a mouse than you do with the keyboard. But then all that is transferred, and on "The Others" there were four of us orchestrating.
FSM: How did you learn orchestration?
AA: I would say just intuition. Having worked with musicians since I started I have learned many things from them. For instance, on "The Others" I wanted something very, very simple and wanted to try something with flutes that I had actually tried before in another film I did the music for. I wanted to try it with harp and strings, [which] are always vital in my compositions. So for instance if I play a whole track that's full of lines of strings, the task for the orchestrator is to separate what corresponds to the violins, the violas and the cellos. And sometimes I even specify because this score had so many solo lines, I would specify which lines I wanted played by the cellos. So far I've just worked with piano, strings, harp, oboe and flute. Since I have most of the sounds sampled I can see what it's going to sound like.
One key scene early in the film demonstrates Amenábar's prowess behind both the camera and the orchestra. Alone with her children in an isolated country house, young mother Grace Stewart (Nicole Kidman) becomes convinced that someone is in the house with them -- someone who might mean them harm. Investigating the home, Grace finds herself in a room filled with furniture covered by white sheets. Amenábar's slow, quiet directorial build-up generates considerable tension and when the "ghosts" of the story first reveal themselves, he unleashes a thrilling cue, "They Are Everywhere," which gives the jolting sequence its real power.
The Others was hugely successful, making over $200 million worldwide against its $17 million budget, and led to Amenábar's striking follow-up films, the Oscar-winning The Sea Inside and the ambitious Agora. Sony Classical released the soundtrack to The Others at the time of the film's release in 2001; the album is still available in digital format (physical copies are easily found on the secondary market), and is highly recommended.


What do you think?
Click here to submit a comment
for this installment.


The Moment in Question:
Click [here] to listen to a sample of
"They Are Everywhere," from The Others
composed by Alejandro Amenábar.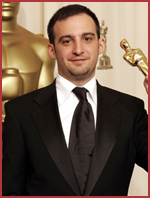 ..Alejandro Amenábar
... ...
Installment Prize:
A prize will be awarded at the
end of each week through
random drawing from all
participants contributing
comments.
Week 1 Prize Information


What do you think?
Click here to submit a comment
for this installment.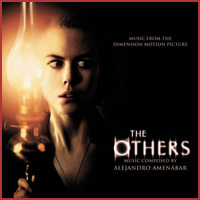 .

Awesome Websites!
Soundtrack available through Amazon


Next Installment:
Clifton Parker faces some witchcraft
--or does he? Night of the Demon