By JASON COMERFORD

Composer Toru Takemitsu is one of the most important figures of 20th century classical music. Takemitsu died in 1996 at the age of 65, and left behind one of the most fascinatingly varied bodies of work in any art form -- all the more extraordinary considering he was almost completely self-taught. Takemitsu wrote music for nearly every conceivable medium, hundreds upon hundreds of pieces which span the concert hall, stage and screen, and remain in constant rotation even today.
Takemitsu was long a devotee of progressive composers such as John Cage and Olivier Messiaen, whose broadening of musical boundaries gave him the "permission" he needed to develop his own increasingly experimental ideas. Like many serious composers of the time, Takemitsu accepted the occasional film-scoring opportunity to make easy money, but by the end of his life, he'd scored over 100 films, many of which (The Woman in the Dunes, Dodes' ka-den, Black Rain) went on to be classics of Japanese cinema.
One such assignment was for Masaki Kobayashi's 1964 anthology film Kwaidan (a.k.a. Kaidan), The film was based a series of Japanese folk tales of the supernatural compiled by Lafcadio Hearn, an Irish expatriate who emigrated to the country in the late 1800s and became one of its foremost experts. The burgeoning musique concrete movement inspired Takemitsu to create a stunning collage of processed and manipulated natural sounds for electronics & tape, flavored with performances on traditional Japanese instruments including the shakuhachi (bamboo flute), the biwa and even vocal chants.
The four-part film gave Takemitsu the opportunity to create four very different, but still interrelated, scores for each of the sections. Perhaps the most memorable of the quartet is the second episode, "The Woman of the Snow," based on a classic Japanese folk tale about a woodcutter who vows not to speak of the strange woman that saved him from a deadly blizzard. As related by Kyoko Kozumi, in an essay on Kwaidan in the book Terror Tracks: Music, Sound and Horror Cinema:
In order to create a sonic impression of a snowstorm, Takemitsu avoided using actual wind sounds and instead electronically manipulated shakuhachi sounds played by [soloist] Yokoyama. These sounds are so modulated in the final film that is difficult to identify their source. In addition, Takemitsu used a tapped sanukite (a stone from the Sanuki area of western Japan) to express the snow woman's icy power.
Kwaidan went on to win a Special Jury Prize at the Cannes Film Festival, as well as an Oscar nomination for Best Foreign Film; Stateside, it is now part of the Criterion Collection, and is viewable on Hulu. Takemitsu's strikingly unique work for Kwaidan has been released, albeit only as part of a multi-disc collection of his film music available only in Japan. Regardless, Kwaidan is one of Takemitsu's most intriguing efforts and is well worth tracking down.


What do you think?
Click here to submit a comment
for this installment.


The Moment in Question:
Click [here] to listen to a selection from
the film soundtrack of Kwaidan, with
music composed by Toru Takemitsu.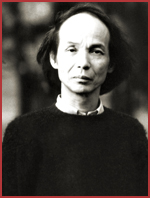 ... .Toru Takemitsu
... ...
Installment Prize:
A prize will be awarded at the
end of each week through
random drawing from all
participants contributing
comments.
Week 1 Prize Information


What do you think?
Click here to submit a comment
for this installment.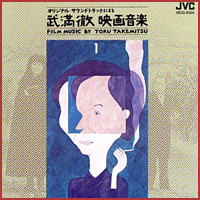 .Film Music by Toru Takemitsu
........JVC VICG-5124

Awesome Websites!
Kwaidan on DVD available at Amazon


Next Installment:
Wojciech Kilar listens to the
children of the night.
Bram Stoker's Dracula