By JASON COMERFORD
Brooklyn native Elliot Goldenthal developed his musical talents under the watchful eye of no less than Aaron Copland and John Corigliano, and clearly he paid attention in class. Ever since his first major film score (for Gus Van Sant's Drugstore Cowboy in 1989), he's developed a challenging and unorthodox body of work that encompasses not just film, but the stage and concert hall as well. The longtime partner of stage & film director Julie Taymor, Goldenthal has stayed fiercely true to his unconventional style in a career that's still going strong.
Not unlike his contemporary Howard Shore, Goldenthal used a series of genre scores (such as Pet Sematary, Alien 3 and Demolition Man) as an opportunity to incorporate increasingly progressive and experimental techniques into his music. With 1994's Interview with the Vampire, the composer found his first major success -- but it was not without drama getting there.
Prior to its release, Neil Jordan's adaptation of Anne Rice's bestseller faced intense entertainment media scrutiny thanks to the controversial casting of Tom Cruise in the lead role of the vampire Lestat. Composer George Fenton, who'd scored three prior films with Jordan, was originally hired to score the film, and was midway through recording his music when a nervous production team decided to replace him, giving Goldenthal and his musical team, headed by orchestrator Robert Elhai, just 10 days to come up with a fresh approach.
In typical Hollywood fashion, Fenton wasn't immediately informed of his departure. According to some reports, music contractor Emile Charlap was put in the unenviable position of scheduling both composers' recording sessions, despite knowing full well Fenton's music wouldn't be used. (Unofficial versions of Fenton's partially recorded score have floated about for years; Fenton later recycled some of his Vampire material for his subsequent score for Stephen Frears' film Mary Reilly.)
Goldenthal, for his part, responded in grand fashion, bridging his distinctively dissonant sound with a more traditionally classical melodic backbone, provided at the outset by an ethereally eerie boys' choir. A particularly distinctive moment comes midway through the film, as vampire Louis (Brad Pitt) encounters Santiago (Stephen Rea), who suddenly demonstrates his own vampiric abilities by dancing wordlessly up the walls of a tunnel. Amidst the Gothic sturm und drang of Goldenthal's score proper, the blackly comic setpiece "Santiago's Waltz" provides an unexpected reprieve from the gloomy darkness, and yet retains the score's overall sense of grim, tragic foreboding.
Goldenthal's was a rare horror score to earn an Oscar nomination, the composer's first; he would later take the statue home for his work on Taymor's 2002 biopic Frida. And he would go on to score four more films for director Jordan, including Michael Collins, The Butcher Boy, In Dreams and The Good Thief. Interview with the Vampire remains a perennially popular score from the composer, and has stayed in print ever since its release in 1994.


What do you think?
Click here to submit a comment
for this installment.


The Moment in Question:
Click [here] to listen to a sample
of "Santiago's Waltz," composed
by Elliot Goldenthal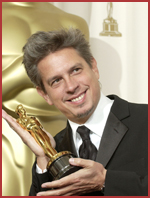 ... Elliot Goldenthal
... ...

Installment Prize:
A prize will be awarded at the
end of each week through
random drawing from all
participants contributing
comments - Prize information
for Week 1 Coming Soon!


What do you think?
Click here to submit a comment
for this installment.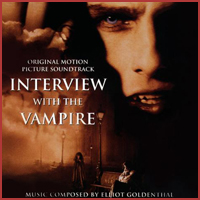 Awesome Websites!
Soundtrack available at SAE




Next Installment:
Paul Giovanni goes dancing around
the maypole. The Wicker Man