By JASON COMERFORD
The central concept of Jack Finney's novel The Body Snatchers, serialized in Colliers Magazine in 1954 and published in one volume the following year, has proven to be remarkably resilient, inspiring four film adaptations over the years, each with markedly different thematic frameworks and varying degrees of effectiveness. Despite its firm rooting in the social mores of its decade, Philip Kaufman's 1978 Invasion of the Body Snatchers has retained its chilling power, thanks in large part to the jagged, unpredictable editing rhythms of Douglas Stewart and, in particular, the remarkable score by Denny Zeitlin, a San Francisco-based jazz pianist who was (and still is) also a practicing psychiatrist.

Zeitlin's long, ongoing musical career began in the early 1960s, when he contracted with Columbia Records and recorded a series of increasingly experimental jazz albums including Cathexis, Carnival and Zeitgeist -- albums which caught Kaufman's attention and led to Zeitlin's hiring. Completely unfamiliar with the normal mechanics of film scoring and yet afforded an unusual degree of financial and creative freedom, Zeitlin surrounded himself with an experienced team including orchestrator Greig McRitchie, conductor Roger Kellaway, and engineer Dan Wallin. The final result is one of the most fascinating and unusual scores ever written for film, filled with Zeitlin's experimental hallmarks and a dizzying range of orchestral nuances. In a generous half-hour interview included on Perseverance's CD reissue of the score, Zeitlin explained the starting point of the discussions between Kaufman and himself:

One of the interesting challenges this film had was, in Phil's idea, that at times, music needed to morph into sound effects [and] needed to morph back into music. So the dividing line was not clear, often, between who was doing what. And I think that really added to the reality and the gripping nature of this film. He also was very serious about not wanting the electronics to sound real electronic and machine-like. He wanted organic sounds, because after all, this was an invasion of an organic life form. So it was an interesting challenge to begin to shape the sounds. ...it was it wasn't until those things came together that the final decision about how much sound effects, how much music would be present, and in what relative measure, during the main title sequence. I was knocked out by what the sound effects folks did. ...they came up with sounds that were unearthly, and yet hewed to this aesthetic that Phil had about the sounds having to be organic.

The careful dance between acoustic and electronic sounds ebbs and flows throughout Zeitlin's score, and his stunning "Main Title" cue is perhaps its best showcase, contrasting Zeitlin's electronic experiments (performed with several then-cutting-edge tools including a prototype of Sequential Circuits' Prophet synthesizer, a polyphonic synthesizer with digital controls) with the more traditional orchestral elements performed under conductor Kellaway's baton. The score is jam-packed throughout with many moments of tremendous invention, but Zeitlin's otherworldly overture deserves special mention.





The Moment in Question:
Click [here] to listen to a sample of
"Main Title" from Invasion of the
Body Snatchers, composed by
Denny Zeitlin.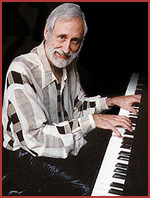 .....Denny Zeitlin

Installment Prize:
A prize will be awarded at the
end of each week through
random drawing from the pool
of participants contributing
comments - Click here for
Week 2 Prize Information


What do you think?
Click here to submit a comment
for this installment.


Awesome Websites!
Denny Zeitlin official website
Denny Zeitlin Wikipedia

Score CD at Perseverance


Next Installment:
Philippe Sarde has a deep, dark
secret. GHOST STORY