By JASON COMERFORD
David Cronenberg's 1986 remake of The Fly bears only a passing resemblance to the 1958 original that inspired it, but unlike many remakes which bring few, if any new ideas to the table, Cronenberg's take on the material amplifies and focuses its thematic concerns -- and, much more importantly, succeeds in raising its story of doomed romance to the level of operatic tragedy. Cronenberg's film is over 25 years old and yet is still an unforgettable experience, perhaps the director's most perfect synthesis of thoughtful pathos and icky bio-horror to date, aided immeasurably by Chris Walas' unnerving makeup effects and Jeff Goldblum's empathetic lead performance.

Composer Howard Shore, Cronenberg's regular musical collaborator, responded to the film with a tremendous effort of his own, contributing a vibrant, stirring orchestral score which deepens the film's emotional undercurrents while not shying away from the horror. In an interview with Michael Schelle for his book The Score, excerpted in Jerry McCulley's' liner notes for Varese Sarabande's' 2005 double-disc reissue of Shore's The Fly and Christopher Young's score for the 1989 sequel The Fly II, Shore explains,

"I wrote (the soundtrack music for) The Fly as an opera. I thought of it that way. ...In different scores, I try different techniques. In (The Fly), I was experimenting with inverting thirds and superimposing triads over other triads -- kind of a polytonality. I (use) film scores as opportunities for experimenting. I'd get into a tonal thing and add extra pitches until it was spooky enough."

The score's highlights are numerous but perhaps most memorable is a critical scene late in the film where scientist Seth Brundle (Goldblum), his horrible metamorphosis in full swing, tells his lover, journalist Ronnie Quaife (Geena Davis) to stay away from him, once and for all:

BRUNDLE
I'm saying... I'm saying I - I'm an insect who dreamt he was a man and loved it. But now the dream is over... and the insect is awake.

RONNIE
No. no, Seth...

BRUNDLE
I'm saying... I'll hurt you if you stay.

Shore's powerful cue for the scene, "The Last Visit," emphasizes both Brundle's introspective nature and his love for Ronnie, reprising a stately, elegiac canon (a repetitive, fugue-like melodic device) representing their ill-fated romance over a soft, steady timpani beat, leading to a tense, definitive statement of the score's main theme as Brundle delivers his terrible ultimatum. Shore's intuitive, emotional music clarifies and strengthens the drama throughout, and the scene in question is a crucial set-up for the film's wrenching finale.

The Fly was a critical turning point for both the composer and the director; in the wake of the film's huge commercial and critical success, Shore's film-scoring career took off and led to a number of memorable efforts across a number of genres including Big, The Silence of the Lambs, Mrs. Doubtfire, Nobody's Fool, Seven, Dogma, and, of course, the Lord of the Rings trilogy (and its upcoming prequel trilogy). And in 2008, Shore, along with Cronenberg and librettist David Henry Hwang, premiered The Fly as an opera for the Los Angeles Opera; it was an entirely new musical creation, utilizing none of the material from the 1986 score, but it did bring Shore full circle, back to the story which helped kick off his film-scoring career in earnest.





The Moment in Question:
Click below to listen to a sample of
"The Last Visit," composed by
Howard Shore. [clip]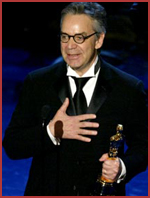 .....Howard Shore

Installment Prize:
A prize will be awarded at the
end of each week through
random drawing from the pool
of participants contributing
comments. Click here for
Week 2 Prize information.


What do you think?
Click here to submit a comment
for this installment.


Awesome Websites!
Howard Shore Wikipedia

THE FLY/THE FLY II on Amazon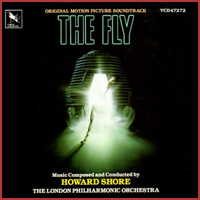 Next Installment:
Denny Zeitlin just isn't himself.
INVASION OF THE BODY SNATCHERS