By JASON COMERFORD
Tom Holland's 1985 horror-comedy Fright Night is very much a product of its time, but its key story hook -- a suburban teenager squares off against the vampire next door -- remains irresistible, regardless of the decade. In other hands, the mixture of 80s-style sex comedy, Hammer-style gothic horror and then-cutting-edge visual effects might have toppled into ludicrousness, but Holland's light touch with the material turns out to be its greatest asset. Fright Night has a charming innocence at its core, and a real empathy for its young protagonists -- qualities which lent themselves well to Craig Gillespie's 2011 remake (a fine film in its own right).

Fright Night's key scene may be the perfect summation of the appeal of 1980s horror. Hormonal young Charlie Brewster (William Ragsdale), already curious about his new neighbors, awakens in the middle of the night to see a woman being slowly undressed by Jerry Dandridge (Chris Sarandon, in the performance of a lifetime). Charlie first thinks he's getting a peep show, but when Jerry sprouts fangs and leonine claws, Charlie's suspicions are shockingly confirmed. This being a horror film whose adult characters have apparently never seen a horror film, Charlie's story goes ignored, but it also turns him into a target -- and his friends as well.

The dreamlike sequence is arguably the film's most memorable, charged with taboo sexuality and the fantastic, and Brad Fiedel's scoring, while firmly rooted in the synth-pop sound of the mid-eighties, gives it the resonance it requires. Fiedel's "Window Watching" cue begins with circular keyboard figures swirling around a slow, seductive beat, as Charlie watches Jerry manipulate the woman under his spell. As Daniel Schweiger recounts in his fascinating notes for Intrada's 2011 release of the score, the rock-styled melody that follows as Jerry's demonic nature reveals itself has a much more ancient ancestor:

Many fans believed this to be the sound of an electric guitar (the theme would even be included on the Guitar Hero videogame), but these solos were actually performed on an electric violin by Ross Levinson. ..."The first time I saw Jerry, I thought he was Mr. Cool, the older guy who's going to steal your girlfriend," Fiedel says. "While Chris Sarandon certainly wasn't acting like Bela Lugosi, I thought it would be interesting to go back to the Eastern European idea of equating a vampire with a fiddle, then twisting it to sound like a guitar. Ross did an incredible job of chopping with his bow to get that sound."

Throughout his score, Fiedel turns the apparent limitation of electronic equipment into a creative asset, freeing him up to incorporate any number of different styles and approaches, from gloomy gothic textures to more modern impressionism. A true innovator in his field, Fiedel, with Fright Night, expanded the vocabulary of synthesizer music in horror films in a way that few others even attempted, let alone succeeded with, and Intrada's recent limited-edition restoration of the score (long thought to be lost to the ages) is an essential listen.




The Moment in Question:
Click below to listen to a sample of
"Window Watching," composed by
Brad Fiedel. [clip]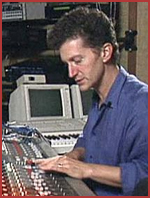 ......Brad Fiedel

Installment Prize:
A prize will be awarded at the
end of each week through
random drawing from the pool
of participants contributing
comments.
Week 1 Prize information

What do you think?
Click here to submit a comment
for this installment.


Awesome Websites!
Fright Night by Fiedel at Intrada

Next Installment:
Marc Shaiman meets his Number
One Fan. MISERY