By JASON COMERFORD

Unorthodox in nearly every respect, Bob Balaban's one-of-a-kind Parents is pure cult-movie bliss. Equal parts black comedy, conformist satire, and surrealistic horror, the film sank like a stone upon its release in January 1989, making back barely a fraction of its $3 million budget at the box-office and scuttled by withering reviews. And yet, Parents is easily one of the freshest and most unique films of the 1980s, a David Lynchian descent into the madness lurking beneath the mundane, with Randy Quaid and Mary Beth Hurt in career-highlight performances as an Atomic Age couple whose blandly cheerful exterior may disguise a taste for human flesh.
Composer Angelo Badalamenti was originally contracted to provide "orchestral" music in the style of 1950s lounge jazz, and his cues -- "Meatloaf Mambo" and "Continental Cuisine," the latter written with Frank Stanton -- combine with era standards such as "Memories Are Made Of This" to give the period setting a delightfully warped spin. But much of the score proper was composed for keyboard and synthesizer by Jonathan Elias, the multitalented composer/performer who'd also scored Children of the Corn and Vamp, and it's the contrast between the two approaches that truly gives the film its uniquely warped feel. In an email interview with FSM user Jon Aanensen ("First Breath"), Elias related:
The director/producer weren't excited by the score that Angelo had done and came to me. I tried to keep some of Angelo's work and feel that I successfully added a very experimental quality to the movie while keeping sections of his score intact. I am a fan of Angelo's work and I am happy I was able to bridge that gap. It again wasn't a very popular movie, but it's definitely an interesting score.
Eschewing a more traditional, narrative approach, Elias contributes a series of eerily hollow soundscapes that provide a chilly counterpoint to the deliberately banal dialogue. Christopher Hawthorne's script teasingly suggests that the couple's troubled son Michael (Bryan Madorsky) is the real monster of the story, and Elias' scoring of the mundane exchanges between parents and child further emphasizes the boy's warped perspective. A key scene early in the film has Bryan stumbling upon his parents having sex; Balaban's careful direction places us in the boy's point of view throughout, and what might be a moment of normal embarrassment instead becomes a threatening, violent and disorienting assault on the senses. Elias' menacing soundscapes perfectly compliment the parents' unnervingly blasé attitudes, making their every attempt to help and protect their child seem purely evil.
The film proper can be seen on DVD from Lions Gate in a crisp widescreen transfer, paired with the Ally Sheedy thriller Fear. But the music for Parents remains completely unreleased -- a real gem of the genre ripe for rediscovery.


What do you think?
Click here to submit a comment
for this installment.


The Moment in Question:
Click [here] to listen to a sample of
the film soundtrack of Parents, with
music composed by Jonathan Elias.

... ..
... ...
Installment Prize:
A prize will be awarded at the
end of each week through
random drawing from all
participants contributing
comments - Prize information
for Week 1 Coming Soon!


What do you think?
Click here to submit a comment
for this installment.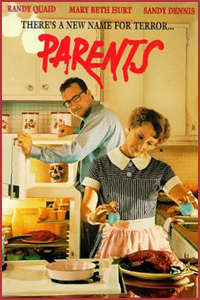 Awesome Websites!
DVD available on Amazon.com




Next Installment:
Hans Zimmer and company
have seven days. The Ring