By JASON COMERFORD
To most 21st-century viewers, the name Roger Corman is synonymous with hundreds of low-budget B films whose enthusiastic willingness to please are typically inversely proportional to their quality (Sharktopus... the defense rests). But Corman's shrewd commercial instincts and keen eye for talent have served him well over the course of nearly six decades in the business, and the stunning list of Hollywood luminaries who cut their teeth on his many productions is a roll call of some of the finest filmmakers ever to walk the planet. Corman received an honorary Oscar in 2009 "for his rich engendering of films and filmmakers;" few honors have been more richly deserved.

Corman's first major stab at critical respectability came in the early 1960s with a cycle of eight Edgar Allan Poe adaptations, most of which were produced for American International Pictures from 1960-1964, and most of which starred genre icon Vincent Price: House of Usher, The Pit and the Pendulum, The Premature Burial (starring Ray Milland), Tales of Terror, The Raven, The Haunted Palace, The Masque of the Red Death, and The Tomb of Ligeia. Cutting costs wherever possible and maximizing the talents of a series of writing partners including Richard Matheson and Charles Beaumont, Corman turned his eight Poe films into the cornerstone of his filmography, and they remain impressive achievements to this day.

Corman's penultimate Poe adaptation, 1964's The Masque of the Red Death, is one of his finest, a superior blend of Poe (the title tale, as well as a subplot drawn from "Hop-Frog") and the short story "Torture of Hope" by French fantasy writer Auguste Villiers de l'Isle-Adam. Corman's initial Poe films utilized the musical services of exotica maven Les Baxter, whose inimitable style was a staple of AIP programmers for decades, but for Masque, Corman turned to a busy composer/arranger/pianist named David Lee, a session musician and jazz artist based in London's West End. Lee had achieved popular success in England for a series of jazz albums and compositions for the British stage, as well as for television and film, but The Masque of the Red Death was his biggest assignment to date, and he rose to the task with aplomb, contributing a vibrant symphonic score that sparkles with ingenuity and complexity.

Arguably the most striking moment in the film and the score is a feverish dream sequence (a staple of many Corman productions) in which the tormented Juliana (Hazel Court), having ingested a magic potion as part of a ritual demonic sacrifice, is terrorized by a series of metaphorical visions. Lee's cue for the scene, "Witchcraft," begins with chopping rhythms reminiscent of Stravinsky's The Rite of Spring, giving way to a series of impressionistic flourishes accompanying the appearances of weapon-toting Aztec, African and Russian warriors, emphasizing Juliana's intense vulnerability while capturing the dream's terrifying, liquid arbitrariness. In a mere three-minute span, Lee's score gives each section of the orchestra a vivid, dynamic workout, ably assisting cameraman Nicolas Roeg's eye-popping visuals. (Roeg's photography was an early credit in a long career that would include later directorial highlights such as Walkabout, Don't Look Now and The Man Who Fell to Earth.)

Once heard, Lee's score for The Masque of the Red Death isn't easily forgotten, and it's more than a little astonishing to discover that it went completely unreleased for almost 50 years. The wait ended early in 2012 with Quartet Records' limited-edition release, derived from music stems housed at MGM; Quartet's immaculately-produced release is a must-have addition to any film music collection, not only for Lee's sumptuous music, but for Daniel Schweiger's in-depth liner notes, which give this long-hidden gem the meticulous attention it so richly deserves.





The Moment in Question:
Click below to listen to a sample of
"Witchcraft," composed by
David Lee. [clip]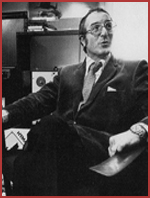 ...... David Lee

Installment Prize:
A prize will be awarded at the
end of each week through
random drawing from the pool
of participants contributing
comments - Prize information
for Week 2 Coming Soon!


What do you think?
Click here to submit a comment
for this installment.


Awesome Websites!
Masque of the Red Death at SAE

Next Installment:
Bernard Herrmann has a birthday
cake for you. SISTERS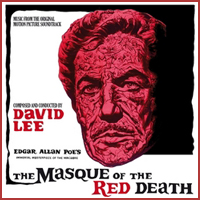 Click the album cover to visit
Quartet Records.