By JASON COMERFORD
Herk Harvey's Carnival of Souls has long been a staple of cheapo horror collections of middling quality: a dubious distinction indeed. Seen in a proper presentation, however, it's one of the genre's highwater marks, and a key stepping stone in the history of independent film. A thoughtful and carefully crafted chiller, the low-budget production (shot in three weeks with a five-person crew and a $17,000 budget) fell into the domestic public domain when a copyright disclaimer was left off of initial release prints, leaving it at the mercy of any number of unscrupulous distributors. Harvey and his production team, who developed their filmmaking skills creating industrial and educational films in Kansas, saw little, if any profit for their efforts, until legal action in the 1990s returned the copyright to its rightful owners, and led to the film's canonization in the Criterion Collection.
Eschewing monsters and carnage in favor of Val Lewton-esque psychological horror, Carnival of Souls follows Mary Henry (Candace Hilligloss), who narrowly escapes death in a drag-racing accident and finds herself haunted by a ghostly apparition (played by director Harvey), and inexorably drawn to an abandoned pavillion on the shores of Utah's Great Salt Lake. John Clifford's scripting creates an intriguing array of tensions; Mary is menaced outright by spectres, but she also has to contend with the more subtle threats of the film's supporting characters, from the minister who hires her (Art Ellison) and a skeptical doctor (Stan Levitt) to her fellow roominghouse boarder (Sidney Berger), whose increasingly aggressive attempts to romance her ultimately push her to the breaking point.
Woven deeply into the film's architecture is the eerie organ music which dominates the soundtrack, contributed by composer Gene Moore. Writer Clifford, in his written introduction for Criterion's DVD release of the film, explained,
While thinking about a character and a story, I was also trying to think of locations that would put atmosphere on the screen at little expense. And one of the places I thought about was the Reuter Organ Company here in Lawrence, Kansas. Reuter builds church pipe organs—and I had seen the room where they assemble and test these exposed pipes. And I decided to use that organ-testing room. And that gave me the idea of making Mary Henry an organist... which led to her going to Salt Lake City to work in a church... which caused her to drive past the old Saltair pavilion and so forth...
Moore's approach in scoring the film was quite similar to those taken by organists in the days of silent film, frequently relying on improvisation and intuition rather than a fully written-out score. According to director Harvey, the entire film was scored in one session (on November 19, 1961) that may have been as short as six hours:
I gave Gene a 16-millimeter print of the movie, and he looked at it... and said, "Okay, I'm ready." ...So, we went over to an organ sales company that had a big Thomas organ, and Gene simply sat down and started in. Most of it he had scored, but some of the music, just for general effects, he just sat and ad-libbed. We started [recording] around eight o'clock in the morning and probably by two o'clock in the afternoon we were done.
A key cue from the film, "We Have an Organist Capable of Stirring the Soul," is a brilliant encapsulation of the film's musical approach. Beginning first in the placid, soothing modes of traditional organ spirituals, the music soon climbs into dissonant registral extremes as Mary's haunting visions swim into her head, her terror and dislocation transmitted through the music. Moore's fluid scoring embraces a number of different thematic approaches, in particular a nightmarish waltz for the ghosts that menace the film's tortured heroine, and the moody, flowing music gives the film a unique and otherworldly ambience throughout. Citadel Records' 2006 release of Moore's compositions, restored from the original scoring masters and featuring a dual presentation (with and without dialogue from the film), is still available both on CD and 180-gram vinyl, and comes highly recommended.




The Moment in Question:
Click [here] to listen to a sample
of "We Have An Organist Capable of
Stirring the Soul," composed and
performed by Gene Moore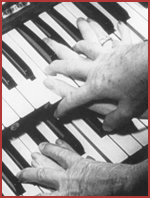 ... ...Gene Moore

Installment Prize:
A prize will be awarded at the
end of each week through
random drawing from the pool
of participants contributing
comments - Click here for
Week 3 Prize Information


What do you think?
Click here to submit a comment
for this installment.


Awesome Websites!
Carnival of Souls Criterion (Amazon)



Next Installment:
Trevor Jones chases the dragon.
FROM HELL